Structural Storage and Bulk Material Handling Products UK
If you want storage and handling products that are expertly designed and bespoke to your requirements, Rowlands Woodhouse is the company for you. We manufacture an extensive range of products for bulk materials storage, handling and process systems, from bespoke silos to complete turn-key production facilities, mechanical conveying systems and process equipment.

Our products will meet the individual requirements of your industry. We pride ourselves on personalised service backed by good quality, to meet current and future business needs.

Waste Material Processing
Rowlands Woodhouse designs and supplies purpose built systems to either allow the return of the waste product back in a process line, or to separate and clean the waste materials for resale or as a fuel.

Rowlands Woodhouse designs, supplies and installs systems for:
Turnkey process requirements
Material separation – magnetic, non-magnetic, air
Sizing materials – vibratory screens
Size reduction – grinding, pulverizing, shredding
Drying – drum drying
Raw and finished product storage


Dryers 
Drum dryers are normally used within process systems and depending on the materials, can be manufactured from carbon steels or a combination of carbon and stainless steel.
The drying medium is dry steam and uses a recirculation system that efficiently and cost effectively removes moisture. The dryers may be used in most industries, including biomass. For materials that are very high in moisture content, a belt or screw press may be used prior to the drum dryer to help make the running more cost effective.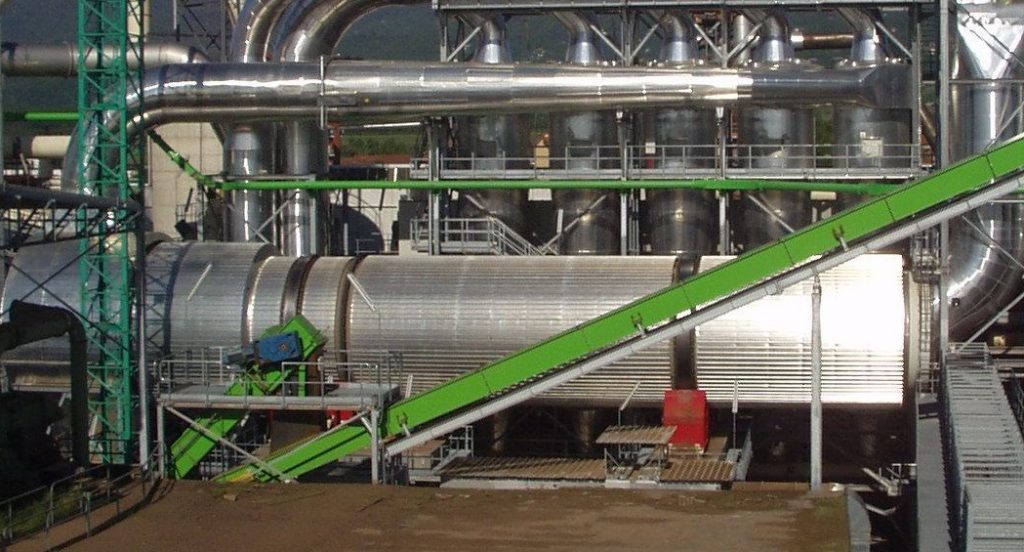 Bio Mass Systems
Rowlands Woodhouse have used their extensive knowledge of storage, handling and processing of many different types of materials and applied them to Bio Mass and Bio Fuel production.
Rowlands have experience in:-
Bio Mass storage and out-loading
Material handling systems
Material reduction
Manufacture of pellets and briquettes
Co-firing (power stations)


Pelleting Plants
Rowlands Woodhouse are able to retrofit or replace pelleting system or items within existing mills or production facilities.
Normally for biomass pellets, the systems are for a new build on a single or two levels, using a floor structure or supporting steelwork with access areas.
Pelleting systems may be split into two areas:-
Mill production- waste – animal feed
Biomass pellets

Certain types of biomass are very abrasive and aggressive. Rowlands Woodhouse takes this into consideration when designing a system, using the appropriate equipment and the materials they are manufactured from.
 

Materials Handling Systems 
Rowlands Woodhouse offers a personalised service in material handling systems and their solutions. With over 35 years' experience in plant design, manufacture, installation and commissioning, the material handling systems exceed on quality and performance.
Initial design consultations
Full turnkey project management (design, manufacture, install, commission)
Design/fabrication to suit all applications
Site evaluation
Design to specification and customer requirements

Handling Systems comprise:
Conveyor and elevator systems
Pneumatic conveying
Storage vessels – silos, bins, tanks, hoppers
Bagging/Packing machines
Screens for material sizing or cleaning
Blending and weighing bins
Weighing and batching systems
Filters – dust and fume extraction

Blending Systems 
Blending systems are normally weighers or hoppers that are fed with multiple materials, normally by conveyors from storage silos or bins. Additives may also be added if required to give a formulated batch. The type of system for blending materials will vary depending on the project requirements.
 

Filtration Systems 
The filtration system and associated ducting is designed to suit your individual application and plant layout, however in certain circumstances, individual filters may be used.

Filters that are usually connected to production equipment are the reverse jet filter type, and for non-production shaker filters are sometimes used. There are different types of filtration media used depending on the applications, and supplied in cartridge or bag configurations.
These systems are normally used for:
Dust extraction
Air release – silos and bins
Odour control
Removal of fumes

Call 01692 405129 or email info@rowood.co.uk to speak to a technical expert about the needs of your industry and company.